Download Daum PotPlayer For Windows XP, Vista, 7, 8
Daum PotPlayer version is a free, robust media player. The application was made ​​on the basis of the popular Open Source solutions, making it quite regularly developed and enriched with new features. The program copes with support popular formats video / audio reading CD / DVD / Blu-ray, display images from webcams and streaming media playback.
Daum PotPlayer also works with digital TV cards and analog. It also allows you to display the subtitles of selected parameters and synchronize them with the display. It is worth noting that PotPlayer has options for downloading and downloading matching subtitles database OpenSubtitles your video.
All these features make the tool will be a very good choice for demanding users. program serve very similar to the other players. In the main window you will find the basic controls control (start, stop, next, previous, volume control, scrolling). Subsequent panels contain graphic equalizer with built-in sets of settings, calibration tools image parameters (exposure, saturation, smoothing, sharpening), options for changing the size of the subtitles or acceleration / release playback. One of the most significant features of Daum PotPlayer powerful capabilities to adjust settings related to decoders and filters. Through proper configuration panel, change priorities, if the default audio decoders / video.
Additional features: – Supports visualization (including the loading of these are compatible with Windows Media Player), – store a list of your favorite files the user, – smooth playback mode (add effects Fade In / Fade Out), – View information about the loaded file and playback status (useful for streaming) – Winamp DSP plug-in support, – broad functionality associated with the management of your playlists (sorting and searching items, removing dead entries, change of name) – built-in database of radio stations and television – capture the audio to one of the popular formats (OGG, MP3, WAV, AAC, AC3), – save a screenshot of the movies – capture video (selectable format video decoder, audio decoder, rate , resolution, number of frames per second), – de-interlacing of movies – adding effects to the image (rotating, mirroring, soft blur, sharpen, levels adjustment, noise removal 3D WarpSharp, Motion Blur) – the ability to support the level of command line – fully customizable keyboard shortcuts and mouse behavior, – audio normalization and adding reverb – great opportunities associated with the adjustment of window size, position, and aspect ratio – automatic execution of shares at the end of the play (for example, close the application or turn off the computer) , – export / import configuration. appearance can change the interface using skins. Some basic install with the application, the remaining retrieve from the official website of the project. Further options related to the aesthetics of the window can be found in the configuration panel. In simple terms, we can set the transparency, logo, color scheme, typeface and font size.
Another advantage is the possibility of integration with Windows Explorer (the menu displayed when you right-click on the file or directory). Also set the application as the default player for specific data formats.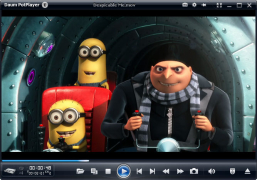 Download Daum PotPlayer For Windows XP, Vista, 7, 8