Advanced SystemCare is a multi-functional program for your PC to clean up and optimize it. With one click, you can remove temporary files and internet traces or delete users, and make your computer faster – limited and check for spyware. Advanced SystemCare gives your PC the easy way a big turn. This programme is been designed for Windows 8, Windows 7, Vista, XP and 2000.
Advanced SystemCare Free is a all-in-one program for the maintenance of your PC. It performs many different activities to bring your computer to clean and optimize.
What Advanced SystemCare Do?
Recovery:
clean registry
cleaning web and user trace (privacy)
Remove Windows temporary files and Internet Explorer
remove spyware (but Advanced SystemCare is no specialized spyware remover)
Optimization:
Disk defragmentation
monitoring of suspicious Windows settings (malware)
immunization against certain spyware
optimization and repair system
You can change the home screen, click Quick maintenance or Deep maintenance to your PC to scan, clean and optimize. There is also a Turbo Accelerator button to start your computer faster. Finally there is a Toolbox with various tools for optimizing and managing your system.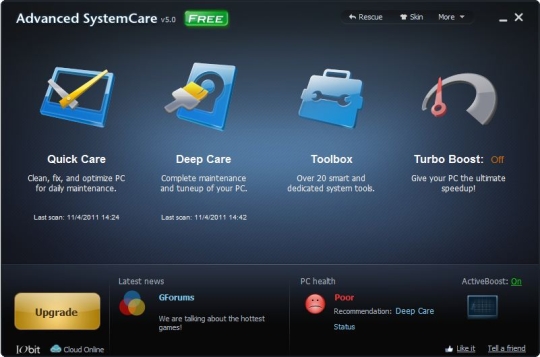 The all-in-one nature of Advanced SystemCare is an advantage for inexperienced users, but sometimes it has a disadvantage. Besides cleaning up the PC, Advanced SystemCare also half-baked protection against spyware and many other perks that are sometimes insufficiently developed. It testifies to the ambition of the total solution for PC maintenance to be, but for now Advanced SystemCare makes other programs are not redundant.
Inexperienced users is moreover recommended to use only the Quick maintenance. Deep maintenance and all tools are meant for advanced PC users only.
Benefits:
Advanced SystemCare quickly cleans your PC and provides many additional tools.
Disadvantages:
Advanced SystemCare settles after startup in the system tray, which is not really necessary. The free version does not allow for the scans to automate, You have to do this manually, which is must for continuously working of the software.
Download Advanced SystemCare 5

Sahil Shah is B.E passed out. He loves to write and do experiments with online tools, software, and games. He is an expert tech writer for 10+ years. He is a part-time scientist as well. Eating, and being online at night is what he usually does.