Tuitalker (tuitalk download) is actually a free voip softphone from Tuitalk to be downloaded to make free voip calls from your PC, iPhone, smartphones, Windows Mobile Pocket PC.
With Tuitalk one can make free calls anywhere in the world. You just need to download the softphone and register with tuitalk. You can use this same account in any of the above mentioned devices. Tuitalk has included more than 40 countries in their list of free calls. These free calls can be done because they are sponsored by advertisement which are shown before you make free calls. One can call landlines and mobile phone numbers with this service. You just need a PC with speakers/headphones with mic or iPhone or Windows Mobile Phone to do free calls.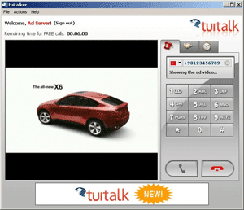 Download Tuitalker For PC
Download Tuitalker For iPhone
Download Tuitalker For Windows Mobile Smartphone
Download Tuitalker For Windows Mobile Pocket PC
I hope you will find this software download helpful for making free calls on internet via Tuitalker. Share your comments with us.

Sahil Shah is B.E passed out. He loves to write and do experiments with online tools, software, and games. He is an expert tech writer for 10+ years. He is a part-time scientist as well. Eating, and being online at night is what he usually does.