Windows 10 is the latest operating system of windows. They added many new features to it by removing some old features. One of the removed features is Windows Media Center that was used to run all your television programs on your pc. If you are also one of those who is finding its alternative for Windows 10, then you are at the right place because in this article we are discussing Best DVD Player for Windows 10.
You might find that what is new in searching the best DVD player for Windows 10, just find, download, and install one of the available DVD players. But note that each player did not give the best experience, and hence we are listing the top most paid and free DVD player for Windows 10 software. So just go through it. Shall we start?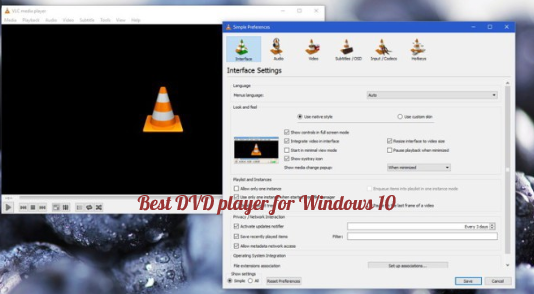 10 DVD Player For Windows 10 to Download
1) VLC from VideoLAN
VLC is the most popular free DVD player for windows 10. It belongs to that player that can play anything throw out to it. It is one of the old players that supports all video formats with all possible features at free of cost. All together make it more than just a DVD player. Even using various protocols, it can stream live videos from the internet. So what do you think?
2) PowerDVD 20
You can call PowerDVD 17 a media hub with a media player as it can show you a net and organize a library with all movies and photos. With it, you can download videos from Vimeo and YouTube and watch it later. With the TrueTheater filter, it can enhance your video watching experience. It starts with 49.99$.
3) PotPlayer
PotPlayer comes with a pleasant look and tonnes of features. It presents with an easy user interface that makes it easier to understand and popular. The best thing about PotPlayer is it can run in the portable mode. Yes, I know it is not easy to set the portable mode, but the truth is this feature makes it one of the best players. To know more about it go to its official website.
4) GOM Player
With GOM Player you can play DVDs in different formats with multiple subtitles. Amazing! Isn't it? But it is just a basic; the best feature is it supports 360 VR videos, so you are long future-proofed. Another supported feature includes playback speed control, an in-built Codec finder, etc. with these highlighted features you can download and install codecs for your files.
5) MPC-HC
Though MPC-HC is not the one which can support each audio and video format known to man, or might not have all of the features you think to get. Yes, we can say that one can run any video smoothly with all the pc included the two-decades-old pc, too! It can play all videos tremendously with the least possible resources, and yes it is very light so you can run it on any system, and that's its strength.
Download
6) KMPlayer
KMPlayer comes with a simple user interface and supports various features. Not only this, but it also supports many video and audio formats that make your experience rich. You might not find KMPlayer best, but yes it is one of the good DVD players with light to use and bundle of features.
7) BSPlayer
Now it's time to select between two versions, yes BSPlayer comes free and pro version. The pro version lets you play DVD'S with some additional features. It allows you to load your complete DVD movie into the computer's RAM, and as a result, giving your laptop longer battery life as your pc or laptop does not have to use the DVD or the Hard Disk for it anymore. Below is link for Windows 10 DVD player download.
8)

SMPlayer
SMPlayer is different from all listed DVD players regarding features. It has a feature that one can't find in any other software like, facility to download subtitles within the player or ability to watch YouTube videos in the player itself, etc. it is easy to understand it if you don't judge it form it looks.
9) ArcSoft's TotalMedia Theater
This one is also different because it supports DVD with BluRay. There is no doubt that it supports 4K videos, too. To cast your movies wirelessly to your projector, it also has a seamless combination with all of your Miracast enabled devices. With all the above, it has full touchscreen support that will help you to enhance your older DVD's experience into HD.
10) MPlayer
MPlayer is highly customizable, free and open-source DVD player software for Windows 10. If we talk about the way it looks, or work, then you can change it as per your choice. As it supports various audio and video formats you can play anything you want. Even it also supports subtitles and multiples languages.
Download
CONCLUSION:
So these are the Best DVD player for Windows 10. We hope you find it working for you, too. Select the one which meets all your needs and requirements. Or you if you know any better DVD Players for Windows 10, then let us know in the comments section below.

Sahil Shah is B.E passed out. He loves to write and do experiments with online tools, software, and games. He is an expert tech writer for 10+ years. He is a part-time scientist as well. Eating, and being online at night is what he usually does.