Photo! 3D Screensaver is a screensaver that displays 3D galleries with artistic images, but you can also add your own photos, which will be in a stunning three-dimensional environment. The photos are displayed on the walls of a museum, as if it were a collection of works of art.
Besides museums can opt for a medieval castle, a Gothic cathedral, a Chinese garden, and more.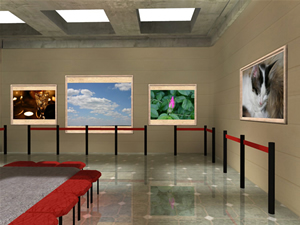 You can add photos directly from Flickr service. You can also add sound mp3 files choosing to ring when the screensaver activates.
Photo! 3D Screensaver 1.2 is the latest version of this software can be downloaded free.
Photo! 3D Screensaver Download

Sahil Shah is B.E passed out. He loves to write and do experiments with online tools, software, and games. He is an expert tech writer for 10+ years. He is a part-time scientist as well. Eating, and being online at night is what he usually does.