Picasa 3.9
Picasa is a program owned by Google that allows you to edit, print, transfer, find and share images, in addition to organizing photos into albums easily and with a good result.
Picasa 3 includes a novel facial RECOGNITION system which can recognize and associate the pictures in which you are the same person, for automatically grouping, classifying them according to their faces that he identifies. A new tool, called Face Movie, you can create a video with pictures of the same person, with the difference that your face is in a fixed position.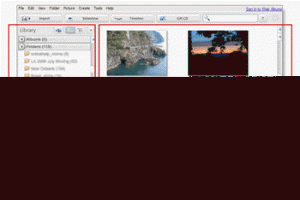 With Picasa you can avoid having disorganized photos in one place, which makes the location or searches. Supports JPG, GIF, PSD, BMP and video files, and is compatible with most digital cameras, so it is useful to download photos from the camera and create or select the destination album.
Picasa has basic editing tools but utilies, serving for example to: remove red eye, crop or resize photos, create presentations, create photo collages, etc.. It also allows you to apply various effects on the photographs: black and white conversion, sepia conversion, color saturation and various effects that transform and become more personal photos to achieve very funny and original.
With Picasa you can make a backup of the collections, organize your photos with tags and some other features that make it a complete and highly recommended, taking into account that it is totally free.
In this new version you can send a whole batch photo service Picasa Web Albums, and also can be edited online using the Picnik service.
Also new in this latest version is the ability to interact with Google+, offering the ability to share albums with friends directly from this new social network, and share the tags associated with each of the photos.
Picasa 3.9 (3.9.136.9) is the latest version of Picasa, updated September 2012. Works with Windows XP, Vista and 7.

Sahil Shah is B.E passed out. He loves to write and do experiments with online tools, software, and games. He is an expert tech writer for 10+ years. He is a part-time scientist as well. Eating, and being online at night is what he usually does.