CCleaner 3.23
CCleaner is a free tool that serves to optimize the PC. It combines a system cleaner that removes temporary files and unnecessary files, with a tool that is responsible for repair and optimize the Windows registry. Periodic execution of these tools is essential to make the operating system run faster, run more efficiently, and to free up space on the hard drive unnecessary.
The cleaner is responsible for clear history, cookies, cache and temporary files from browsers. Supports Google Chrome, Firefox, Internet Explorer, Opera and Safari.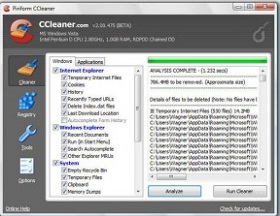 Also delete files in the recycle bin, temporary files, recent documents list, and more, is also responsible for removing unnecessary files that are leaving other applications. Some of the applications supported are: Windows Media Player, eMule, Microsoft Office, Nero, Adobe Acrobat, VLC Media Player, Winamp, AIMP3, Avast Antivirus, and WinRAR, among others.
The other is the fundamental tool that handles scan and remove registry entries old or unused, also repair common errors that occur when programs are uninstalled.
Using the tool is simple and must select in the menu on the left some of the 4 icons, with the functions: Cleaner, Registry, Tools and Options.
Menu options CCleaner
If you select the "cleaner", then you must click the "Analyze" button, to proceed Ccleaner full analysis process, which culminates with the details of all the items that can be removed, and shows how space can be saved to disk if you opt for the cleaning. To confirm the deletion of those items listed should click "Run Cleaner". Importantly, you can ignore some elements not want to analyze: for example, you can uncheck the "Cookies" from one of the supported browsers, so you do not remove them.
If you select the "Register" you must click on the "Search Problems", so that the analyzer is responsible for finding several problems: missing shared DLLs, invalid file extensions, obsolete programs, etc. Some of these options can uncheck to not be taken into account during analysis. It is recommended that you back up the registry, and it reached to confirm by clicking "Yes" when the program asks. After receiving a report of the registry errors found, you have the option of repairing them individually, or click on "Fix all selected entries."
If you have selected the option Tools to uninstall programs, to disable programs that run when Windows starts, to restore the system (must select one of the restore point as listed) or erase a disk drive.
Finally, options can configure various aspects related to the functioning of Ccleaner. It is advisable to check the option to automatically check for updates to CCleaner, since it is updated every month.
CCleaner 3.23 (23/03/1823) is the latest version, updated in September 2012. Works on Windows 7, XP, Vista and 2000. This software is free.
In this new update adds support for Firefox 14, Opera 12 and Google Chrome 21, and added to the list of programs to which they applied the process of "cleaning", the following antivirus: AVG AntiVirus 2012 and Avast ! Antivirus 7. It also adds support for Windows 8.
Download CCleaner 3.23

Sahil Shah is B.E passed out. He loves to write and do experiments with online tools, software, and games. He is an expert tech writer for 10+ years. He is a part-time scientist as well. Eating, and being online at night is what he usually does.