There are many people out there who are not happy with their internet broadband speed or think that they have slow internet speed. Though their are different factors which actually determine broadband speed. Some are listed as under which may answer, how to increase Broadband internet speed?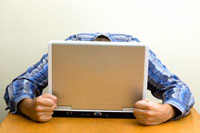 1) Check Your System : If your PC is old and you have lesser RAM then its time to check and replace your RAM or Whole System. The slow running system also cause slowness your broadband speed. If all of this is correct and still your computer is running slow, this may cause drop in speed on overall system as well as Internet. You can use system utility softwares like Glary Utilities to make your system run faster, so internet speed will boost as well.
2) Check Your Browser : If you are running an old browser and that too a default one, it will diffidently going effect your overall browsing and you will feel a slowness in your Broadband Speed. To increase your broadband speed you must switch to latest browser which will give you extremely fast and great browsing experience. Download Google's very own Chrome which is one of the fastest browsers now a days. You can also see Mozilla Firefox for an option.
3) How Much Broadband Package You Have Taken?: Many time we take broadband package of 250 kbps and wants speed of 1 GB. That's pretty impossible. If you want good speed than take bigger packages.
4) Are You using Shared Connection?: Many ISP provider don't provide lease lines. They share the hubs and give you shared broadband connections. This may also effect in speed on your internet. Talk to your ISP provider for this.
5) Make Your Connection Secured : Many times if your firewall is not on, your network user might be using your speed as well. Make sure your firewall is on and scan your wireless network for any other troubles.
6) Look For Background Running Program: Also look for the program which runs in background as soon as you log in to internet connection. These programs many times uses your bandwidth, and you don't know about it. Many times auto update of your software may also decrease your overall internet speed.
7) Wifi Connections : If you use WiFi or mobile internet connection like tata photon or reliance netconnect, do check you are getting proper signals or not. Sometimes in some areas the signal is not as good as some other areas. Try to be in areas where signal is quite good.
8) Download Speed : If you think your browsing speed is normal, but the real problem is download speed, then you can use software like IDM 6 (internet download manager) which boosts file downloading speed for almost double, from what we can get from normal downloading.
9) One Simple Method To Increase Broadband Speed If You Use Windows XP: It is said that windows XP consumes 20% of your internet speed. To avoid that you need to do one simple method.
Here is how it is been done. Make sure you log in as administrative.
Start > Run > type gpedit.msc > Look for "Local Computer Policy" > Expand the "Administrative Templates" > Now expand Expand "Network" > Choose "QoS Packet Scheduler" > Now Double click "Limit Reservable Bandwidth" > Check  it as "Enabled" > Change Bandwidth limit  to 0 % > Apply OK > Restart system.
This specific trick is been given by "mostlysavingmoney.com"
10) Last Option: If all not work, then I would suggest please consider changing your Broadband service provider.

Sahil Shah is B.E passed out. He loves to write and do experiments with online tools, software, and games. He is an expert tech writer for 10+ years. He is a part-time scientist as well. Eating, and being online at night is what he usually does.