Windows 7 Easy Transfer is a program that allows you to transfer the settings you have in Windows XP or Windows Vista to the new Windows 7,to facilitate the passage from one operating system to another.
Among the items that can be imported to the new system include:
Configuring Windows
User Accounts
Settings, contacts and emails
Configuration and data files programs
Internet Settings
Internet Favorites
It also can transfer files and folders with all kinds of content, such as photos, MP3, videos, etc..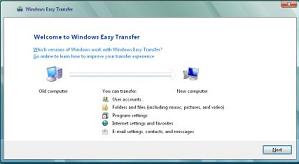 The transfer can be done through a network or copy the files to a CD, DVD or USB stick and then copy them to the PC with Windows 7.
Windows 7 Easy Transfer 6.1 for XP or Vista is the latest version of this software created by Microsoft to import settings to Windows 7. In the download page you must select from four options:
Windows XP 32-bit / 64-bit
Windows Vista 32-bit / 64-bit
Windows 7 Easy Transfer Free Download

Sahil Shah is B.E passed out. He loves to write and do experiments with online tools, software, and games. He is an expert tech writer for 10+ years. He is a part-time scientist as well. Eating, and being online at night is what he usually does.