What is a Virtual Business Card and How Does it Work?
Virtual business cards, also known as digital business cards, give real estate agents and other professionals in the realty industry an easier way to share contact information with potential leads. These contactless cards provide a faster and more efficient way for people to connect without the need for physical cards.
Virtual business cards offer an easy-to-use platform for realtors to quickly exchange key information with partners. They make it easier for clients and prospects to retrieve details about agents including contact numbers, profile pictures, and professional skills. Additionally, virtual business cards are also proving to be incredibly useful during times of social distancing when physical exchanges can be difficult or impossible.
How to Create a Professional-Looking Digital Visiting Card for Your Real Estate Business?
Every realtor needs a professional-looking virtual business card that helps them to stand out and make a great first impression when connecting with potential customers. Virtual business cards are an effective way to market yourself, showcase your services, and share contact information with clients.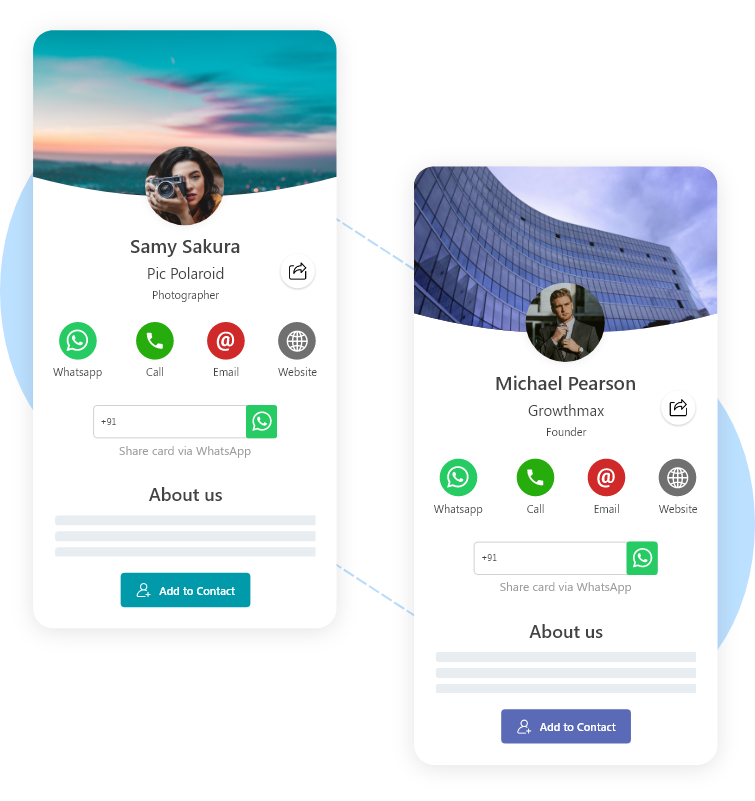 In this article, we will help you create the perfect virtual business Card for your real estate services by providing tips on how to select the right online business card template, ways to add personalized touches for a professional-looking design, and provide some examples of great virtual visiting cards for realtors you can use as inspiration. We have used and experienced the best 3 Virtual Business Cards makers for Realtors, which are listed as follows.
Also Read: How to use pagarbook app?
3 Best Makers of Virtual Business Cards for Realtors
Here are 3 Best Makers of Virtual Business Cards for Realtors.
Top 3 Providers of Virtual Business Cards for Realtors
hihello.me – is a popular provider of virtual business cards used widely by realtors. Its sleek, professional design is customizable to fit your brand. You can add your photo, logo, and social media links to your card. Hihello also offers an analytics feature that tracks how many people have viewed and shared your card.
Itzme.io – I personally have used itzme.io's digital business card. They offer great features with their business cards. Their cards are having a user-friendly interface, which makes it easy to create and customize your card with your photo, logo, and contact information. Itzme.io also offers a feature that allows you to share your card with multiple people at once.
Etsy.com – is a virtual business card provider designed specifically for professionals. It has a sleek, modern design and is customizable to fit any brand. You can add your photo, logo, contact information, and even a video to showcase your skills and personality.
Benefits of Using a Virtual Business Card as a Realtor
Realtors are increasingly turning to modernized contactless networking opportunities to connect with potential clients. By utilizing virtual business cards, they can conduct automated networking more efficiently and strategically, allowing them to focus their attention on building a successful digital portfolio. With the right marketing strategy in place, realtors can use a virtual business card to establish themselves well beyond their local market, increasing their chances for lucrative deals. Additionally, using a virtual business card gives them an opportunity to develop deeper relationships with current contacts and reach out to newer prospects without having to leave the comfort of their homes.
How to Effectively Distribute Your Virtual e-Card to Increase Visibility?
Digital portfolios and virtual business cards are no longer confined to a page on a website or the corners of an oddly-shaped physical card. With the rise of digital portfolio-sharing platforms and social media marketing strategies, your virtual business card can transcend all boundaries. By leveraging these tools, you can effectively distribute your virtual business card to increase visibility and drive more leads for your business.
Conclusion:
Through using platforms such as LinkedIn, Twitter, and Instagram, entrepreneurs can share their digital portfolio with potential clients or employers all over the world. Targeted ads on Facebook help to further spread the video business card's reach by making it appear in front of a targeted audience who may be interested in what the entrepreneur is offering. These ideas paired with targeted outreach campaigns have proven highly effective in increasing visibility for any size or type of business.

Sahil Shah is B.E passed out. He loves to write and do experiments with online tools, software, and games. He is an expert tech writer for 10+ years. He is a part-time scientist as well. Eating, and being online at night is what he usually does.