Videora iPod Converter Free Download
Videora iPod Converter is a free application that allows you to convert various video formats, including the format used in the videos of YouTube and similar sites, to be played on the iPod.
Among the formats it supports, we can highlight the following: MPEG, AVI, DIVX, XVID, FLV, VOB, MKV and X264 and others. The conversion is made to the formats supported by iPod devices, such as MPEG-4 and H.264. The most important thing is that the conversion is done according to the specifications imposed by Apple devices such as an iPod not necessarily read any MP4 file.
Videos converted by this tool are supported by any iPod that plays video, whether the iPod touch, iPod nano, and iPhone.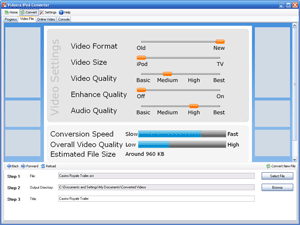 The use of the various functions available in Videora iPod Converter is very easy and intuitive, but also provides a set of tutorials that explain how to transfer videos from YouTube, from DVD, or from any other video file, so that later can be transferred to an iPod.
Videora iPod Converter 6.00 is the latest version of this software, which was updated in January 2010. It is available for Windows and Mac
Videora iPod Converter Free Download