Keeping in mind the needs of users this organization has designed a multi-purpose product named as PDF Toolbox to allow users to perform multiple tasks over PDF files. These days PDF files commonly used by users because of portability and flexibility, they are easy to share, can store huge amount of information and also does not require any specific platform to be read, etc. due to which almost 99% of users are aware of its advantages and use them in day to day life. But due to varied reasons, users want to sometime compress the size of PDF files, they need to extract images out of those saved PDF files for presenting proofs in court or any other reasons, they need to convert PDF file into PDF/A format and the text from PDF files are to be extracted. Therefore, to perform above mentioned multiple tasks over PDF files; they need to take one or other required action.
Understanding users' needs is the main aim of the organization and therefore organization represents all-in one tool named as PDF Toolbox to perform compression, conversion, extraction process in one go. This tool will help users in performing compression of PDF files, conversion of PDF format into PDF/A format; also help to extract images and text out of PDF files in batch.
Basic Functions Of Tool
Compression of PDF files in batch
Batch Conversion of PDF files into PDF/A format
Extract images out of PDF files in batch
Extract text in TXT files from batch PDF files
Software Details
Name of Tool: SysTools PDF Toolbox Software
Version: 1.0
Size: 4.9 MB
Prerequisites Of Tool
At least require 5 MB of free hard disk space
Require 512 MB of RAM, but 1 GB is recommended
The processor must of 1 GHz at 2.4 GHz is required
Windows version will be 8.1 or below to be used with the tool
Download Link for Demo version: http://www.systoolsgroup.com/pdf-toolbox.html
Download Link to Full version: http://www.systoolsgroup.com/pdf-toolbox/order-now.html
 Difference Between Demo Version And Full Version
               Demo Version
                         Full Version
Demo Version of the tool allows compression of batch PDF files with watermark as 'SysTools' over resultant PDF files

 

Full version of tool can be used to compress bulk PDF files limitation free with the tool

                  

Using trial version users can convert PDF files to PDF/A format with an embedded watermarkof'SysTools' text.
Using the full version of tool users can convert bulk PDF files to PDF/A format without any watermark as a limitation
Extracted images will also be output as watermarked files as a limitation of the demo version
Using any of the licensed version of tool users can extract unlimited images from n number of PDF files without any limitation
In this trial version, under extract option, software will extract text from half part of the PDF file as a limitation in .txt format.
In full version users can extract unlimited texts from batch PDF files in one go without any complications.
Features Of PDF Toolbox
Compress and reduce the size of PDF files in batch
Convert PDF file's data into PDF/A format
Allow extract images from selected PDF files in batch
Provider's provision of adding and extracting text into multiple PDF files
Does not alter the original content of PDF files during executing of any of the process
Embedded with self-instructional steps to ensure a smooth process
Multiple LicensesTo Invest
The tool is available in three different licenses as per needs of users, i.e. Personal, Business and Enterprise, to allow users to perform any of the PDF functions with ease.
Personal license is available for a single user to compress or extract images out of PDF files in batch. The activation key for the personal license is available only for a single user system; the tool can be run only on one system with personal license.
Business License is meant for bulk users engaged in the same business or organization. The key for this license can be used on multiple systems into the same geographical unit. Multiple users can perform PDF related tasks on different machines using this license.
Enterprise license is meant for those users who are located in multiple units. Using this key of licensed version bulk users can perform the PDF related tasks into more than one unit of the organization.
Four Steps Process To Attain Success
This is the welcome screen of the tool that helps to proceed with any of the function, i.e. compression or extraction,selecting any of the options and proceeding to the next level will provide steps to proceed further.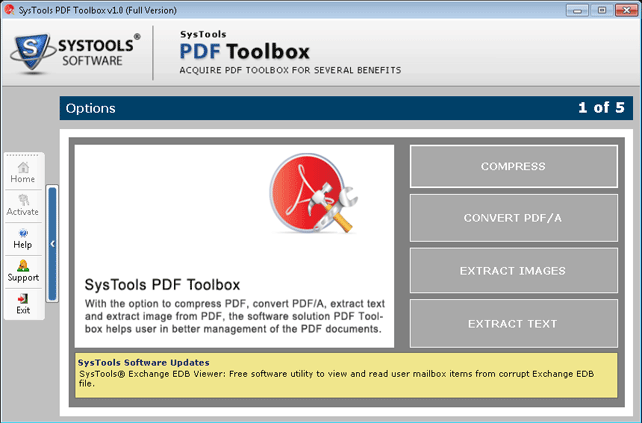 Adding PDF files to software wizard to perform any of the function is the next level of software. Also in this next step software will ask for destination location to save the output as indicated to software wizard.
Assigning the necessary settings over PDF files is third step of software steps allowing them to proceed to next level of PDF Toolbox.
Last step to perform functions of PDF Toolbox is processing state of PDF files. The software will provide status of PDF file completion to users with a message. Clicking on'Ok' will finish the process of PDF file any of using the process.
Conclusion
SysTools PDF Toolbox can be overall concluded as four-in one tool that performs several functions in one go. Therefore, users must take a ride of the tool to ensure if it is worth to invest in this tool or not. If rating for the tool are taken anyway, the tool is 8.9/10 worthy and desired results can be obtained from users to ensure PDF related issues in simple clicks.

Sahil Shah is B.E passed out. He loves to write and do experiments with online tools, software, and games. He is an expert tech writer for 10+ years. He is a part-time scientist as well. Eating, and being online at night is what he usually does.