Speccy is a program to learn details of the various components of hardwareof the PC. Includes information on the CPU , RAM , motherboard (Motherboard ), graphics card, hard drives , optical drives, sound, and other relevant information.
The report generated by this tool you can get important information such as:the brand and model of the processor , the size and speed of the hard drive, amount of RAM, number of slots, operating system, version of "service pack" , and much more information.
This information can be useful for several reasons: to know, at the time of making a purchase, if the harwdare is compatible with the system, and whether the hardware purchased matches specified by the seller, and also to see if you need add more RAM according to the requirements of the software to install
.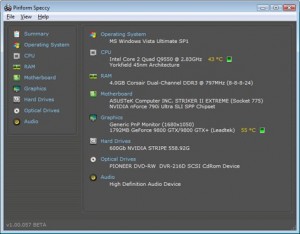 Speccy indicates the values for the temperature of the components disitintas , alerting in case of risk due to the poor condition of some of them.
Speccy 1.18 (1.18.379) was updated in September 2012, to catch up with the latest models, such as the Intel Core i7.
There is guaranteed to be created by the same company that introduced and very reliable as other software Ccleaner and Recuva . Like them, this program can also be downloaded for free .
Works with Windows XP, Vista and 7 (32-and 64-bit), and in this latest version adds support for Windows 8.
Size: 4.5 MB.

Sahil Shah is B.E passed out. He loves to write and do experiments with online tools, software, and games. He is an expert tech writer for 10+ years. He is a part-time scientist as well. Eating, and being online at night is what he usually does.