PDF Mergy is an online tool that allows you merge two or more PDF files into a single document. Thus, if you scanned something and ended up getting a file for each page, you can resolve this and other problems of the genre with this application.
To use PDF Mergy, just drag the files you want to merge as the demarcated "Drag files here" area. Note that the file you send first will be the first part of the new file that the application should generate. Still, after all sent properly, you can adjust the order by dragging the icons of each file to the appropriate position.
Choose which files together
You can still use the "Select files from your computer" button to send files from your computer by browsing the folders most traditional form, or use the "Select files from your Google Drive" to choose a document that is stored in your Google Drive .
Once all your documents are properly uploaded and organized, just click "Merge" and wait for the process to be finalized. After that, you can choose to download the file to your hard drive or upload it to your account in Google Drive.
Review
PDF Mergy is a very useful tool for anyone who needs to join PDF files, but do not want to download and install a program in Windows just for that purpose. The online app allows to perform this task well intuitive and simple way. With this you do not waste time with downloading and installing software that can still bring unwanted third parties for their system.
The service interface is quite simple. There are not many ads or extraneous buttons. Just choose one of the options to upload, drag documents into the correct order and eventually starting the merge. This makes the app simple to use.
Fast
In our tests, although we note that the PDF Mergy is quite fast. If you have a good internet connection, the process of sending and downloading files is very fast and the junction of the elements too. Thus, even documents with many pages do not take more than a minute to get ready.
Thus, we can say that PDF Mergy is one of the best options for dealing with the joining of PDF files that you can find today. Therefore, test and check if it pleases you.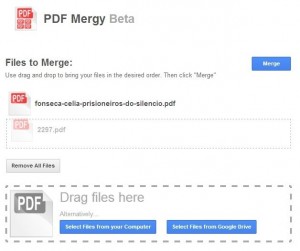 PDF Mergy Beta Online PDF Tool

Sahil Shah is B.E passed out. He loves to write and do experiments with online tools, software, and games. He is an expert tech writer for 10+ years. He is a part-time scientist as well. Eating, and being online at night is what he usually does.