Your Gmail account probably contains some sensitive information—emails from your friends and family members, information about accounts for other services, candid pictures, you name it. What if someone else has been poking around in there? Fortunately, Google gives you the tools necessary to find out.
You Can Protect Your Gmail Account By The Following Steps
Step 1: First, log into your Gmail account from your computer's Web browser. Once you get to your inbox screen, scroll to the bottom, and look for the link labelled "Details" in the lower-right corner.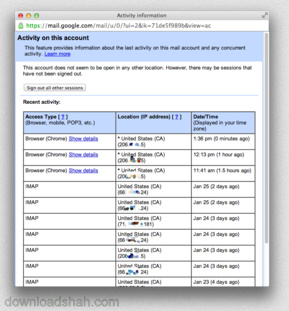 Step 2: Click the link, and you'll get a pop-up window that shows the last 10 times someone accessed your Gmail account, along with how they accessed it (through a browser, an email app, and so on), their IP address, and when they access it. If something looks fishy, you'll want to change your password as soon as humanly possible.
Step 3: While you're at it, you may want to turn on two-factor authentication for your Google account and give yourself an extra layer of protection.
Step 4: What's that? You don't have your IP address memorized? Don't feel bad—most of us don't. One way around this is to visit WhatIsMyIP.com at locations where you frequently use your computer (at home, at work, at the coffee place you frequent, and so on)—or check your IP address whenever you connect to a new network—and store those in a text document or something.
Be free and use your Gmail account without any fear.

Sahil Shah is B.E passed out. He loves to write and do experiments with online tools, software, and games. He is an expert tech writer for 10+ years. He is a part-time scientist as well. Eating, and being online at night is what he usually does.