DVDSubEdit is a program that allows you to edit the contents of a DVD, whether the subtitles, menusor any other item that is part of type VOB files on the DVD.
You can make various modifications to the subtitles, as edit, change their color, transparency level, the time displayed, sync (if mistakenly been a gap between the image and the titles can be accommodated by changing the start time , etc.).
The change made the subtitles may be recorded in the same file. VOB, but also be exported to specific file types. SUP or. SRT.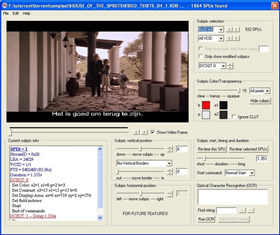 DVDSubEdit 1.5.1 is the latest version (December 2009) of this software. In the same makes some improvements such as support VOB files larger than 1 Gigabyte, and solved some bugs present in the previous version.

Sahil Shah is B.E passed out. He loves to write and do experiments with online tools, software, and games. He is an expert tech writer for 10+ years. He is a part-time scientist as well. Eating, and being online at night is what he usually does.