Caliber
Calibre is a program that allows you to organize the collection of electronic books (e-books). Supports most used formats, such as CBZ, CBR, CBC, EPUB, FB2, HTML, LIT, LRF, MOBI, ODT, PDF, PRC, PDB, PML, RB, RTF, TCR and SNB.
It can be used to read documents and books not only from the PC, but on multiple devices: SONY PRS 300/500/505/600/700, Cybook Gen 3/Opus, Amazon Kindle 1/2/DX, Netronix EB600, Ectaco jetBook , BeBook / BeBook Mini, Irex Illiad/DR1000, Foxit eSlick, phones with Android, iPhone and now iPad. To sync with your iPhone you need to install the application in the same stanza.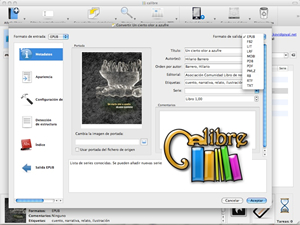 It has several interesting tools, such as:
 Converter between formats for electronic books, and is useful for example to move all the books to PDF.
 Synchronization between the collection stored on your PC, with the saved on some devices reading books mentioned.
Automatic access to news on the Web and RSS Feeds, with automatic conversion to e-book format.
Access to the collection from a browser, and the possibility of publishing the book collection on the web.
The application stores data in a database, and from its interface, you can easily organize and search filtering by various elements, such as title, author, date, publisher, size, and a score or rating that can be assigned to each book. All these data can add, edit and delete for each book.
It also supports other metadata descriptions that can be associated to each book, for better organization and easier to find what you want to look for in the future.
You can add the ISBN number for each book if you have it, and a cover image that the application is responsible for searching the Internet if you do not have it in the same e-book.
The official site has a video tutorial that explains in detail the use of the application and the steps to be followed to organize a virtual library.
Calibre 0.9 is the latest version, updated in September 2012, this book cataloger able to create a true virtual library, which also has the advantage of being free and cross-platform (Windows, Linux and Mac OS X).
Download Calibre to organize e-books

Sahil Shah is B.E passed out. He loves to write and do experiments with online tools, software, and games. He is an expert tech writer for 10+ years. He is a part-time scientist as well. Eating, and being online at night is what he usually does.