Antiviruses on Android are at the heart of a great debate: Some consider that they are not necessary (and we are part of it), while others prefer to have one installed for more security and feel better protected. This is why we offer you a comparison of the best free antivirus app on Android. But don't forget, this does not exempt you from staying vigilant and keeping good practices!
This guide presents a selection of the best free Android antivirus. What to choose if you want to protect your smartphone with one of these tools. Before going any further, keep in mind that antivirus is not essential on a smartphone, especially if it is used while respecting a few basic security measures.
What is an antivirus?
An antivirus comes in the form of computer software (whether on a computer, mobile device, etc.) which is developed to provide real-time protection of the system. Its main role is to be able to detect all potential dangers, to propose solutions to eradicate them, or to monitor suspicious behavior of the system and the files which are stored there to protect you from any security risk. Now let's discover some of the best antiviruses on the market.
The best free Android antivirus app List
This selection that we tested cannot, of course, be exhaustive, but offers a good overview of the antivirus offer. These applications have been chosen for their interface, their efficiency, and the fact that they provide the basic functionality that one would expect from an antivirus worthy of the name, free of charge. But remember, the best antivirus is still you and your caution!
Safe Security – Antivirus, Booster, Phone Cleaner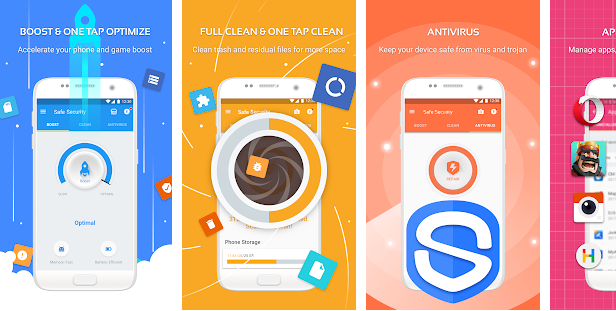 We start with one if not the best antivirus on Android. It is currently used on more than 200 million smartphones worldwide. In addition to of course offering all the necessary security, this little application will offer other functionalities too.
First of all, it is a RAM booster, it will kill unnecessary applications in the background. It also offers a whole new intelligent battery-saving function to help you monitor the most used applications and conserve your battery.
Avast Antivirus – Mobile Security & Virus Cleaner – free Android antivirus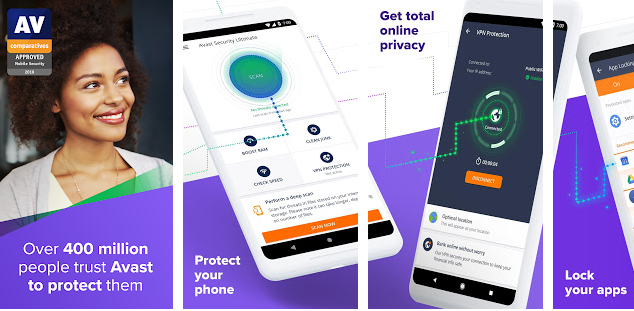 Next, we find the application called Avast for antivirus protection in a mobile version, which is said to be equally effective. An even more complete menu is available for this. Whether it's virus scanning, outright blocking of applications, or protecting your privacy, everything seems to be present on the interface.
An analysis was carried out for this software also. It is also possible to perform a scan on all storage spaces (memory cards). To make it shorter, I deliberately did not check this option.
After a relatively short analysis overall (2 minutes 30), no threat detected on the 40 scanned objects. A powerful system that is perhaps even better thought out than the PC application and its false positives.
In addition, the application offers a firewall to manage the traffic (Wi-Fi, data) of your applications as you wish. A task that might seem tedious to those who would like to configure each application one by one, but this is what it takes to have precise settings as possible. The "Privacy" section allows you to collect a lot of information about your phone and the network used.
The settings to finish will allow you to update the Avast database and block the application with a PIN code (be careful not to forget it if you use one). In short, Avast, as you may like (or not) on a computer, then, to download on the phone if you are already familiar with the system.

AVG AntiVirus Free – Android Virus Cleaner 2020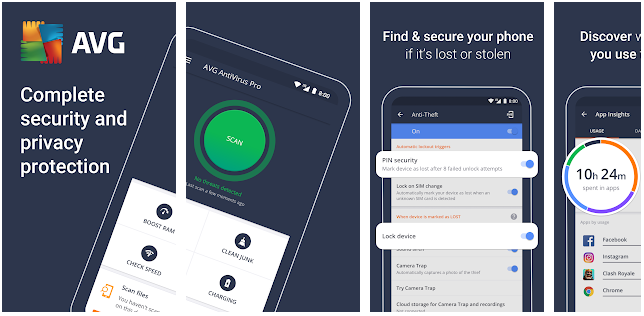 AVG is an antivirus already well known on PC and which does rather well on mobile devices. The main menu is also simple and very quickly accessible. The "Analyze" button located at the bottom will have made it possible to perform a scan on the phone and even to detect 4 threats!
But rest assured, that doesn't mean it didn't do its job properly. Simply that the threats detected are as follows:
CyanogenROM Downloader, classified as intrusive adware, so certainly the free application contains advertising placed just below, but still, it is the new company that is not going to be happy.
Activated "USB debugging" does not seem to appeal to AVG
The option for installing applications from "unknown sources" is checked, AVG tells us that it is a risky choice, with all due honor.
The smartphone is rooted, potentially granting all rights to who gets it on the phone, sure, but I was aware of this detail.
As a result, the application reports as threats that could actually represent a danger, but these different cases are completely normal on the smartphone that was used for the tests.
Aside from that, AVG Antivirus for Android offers to consult the performance of its device, in particular the state of the battery (its temperature and its health) and even the possibility of setting an energy-saving mode.
Finally, the application offers everything you need for file scanning, real-time protection when you surf the internet, analysis of your SMS / MMS messages, and a range of options for protecting your applications or blocking calls.
Mobile software that will undoubtedly interest more than one, and for which we will not have much to blame it for, although it is rather provided and perhaps a little too strict in its analyzes.
Avira Antivirus 2020 – Virus Cleaner & VPN
Avira, also known on PC for its formidable efficiency, its speed, and its low consumption of resources, which is found pleasantly on Android. Not that the mobile version of the antivirus is a beast in search of the virus, but it adopts a simplified interface as possible and which goes to the essential, provided that you have created an account beforehand.
The analysis performed will have toured the files stored on the internal memory and the micro SD card (count about 8 GB in total) to report no problem on the smartphone. A little longer for the operation, the search algorithm is particularly sophisticated and has proven itself on PC to detect many so-called FUD programs, that is to say, intended not to be detected by antiviruses. But Avira has shown that he is very strong in this area.
For the rest, we find an anti-theft device to locate your lost or stolen Android device, and even options to lock it remotely or directly delete the data that is stored on it. It is also possible to create a blacklist to block unwanted contacts that have become used to disturbing you.
An antivirus still free which will do what we ask and will be discreet on your system, so it would be a shame to deprive yourself of it. With Avira as an antivirus on your Android device to protect you from viruses, you will have what you need so that you no longer have to worry about losing your data or falling victim to a malicious program.
Antivirus and Mobile Security, AppLock, Booster
Trend Micro is, like Kaspersky, Symantec or McAfee, one of the experts in PC computer security. A company of Japanese origin, Trend Micro is very often present in the rankings of the best antiviruses in the world. And, naturally, its offer for Android is based on this know-how to offer a suite just as complete and efficient as that of the most direct competition.
You will find in this package an antivirus, of course, with a very high detection rate. The application monitoring takes place prior to, during and after installation. The same goes for navigation URLs, which are scanned and blocked before accessing them. And this as well on a traditional Web browser or in the browser integrated into certain applications.
The system also includes protection tools dedicated to mobile payment ( against phishing ) or monitoring public WiFi networks (to avoid those with too low a security level). In addition, the application includes optimization tools to clean the system of software that you do not use or that monopolize too much RAM. These are just a few examples of the many features of this suite.
Bitdefender Antivirus Free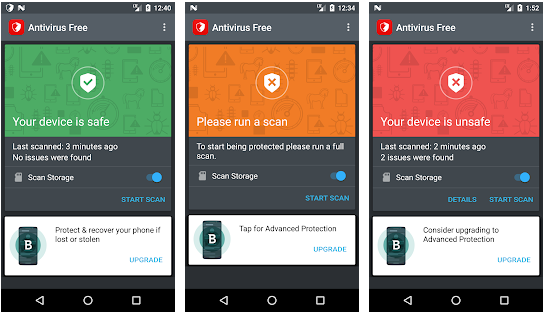 Bitdefender also offers a free solution to the Play Store . The publisher of the famous solution highlights several features concerning its application, a low impact on autonomy, the support of the cloud to more easily detect potential threats and a little manipulation to perform to benefit from effective protection in all circumstances. The solution is limited to certain functionalities, Bitdefender notably offers another paid version for those who wish to push the security of their smartphone further. Here are some elements highlighted by the antivirus editor:
Light solution: the signatures of known viruses are not stored on the smartphone, but in the Bitdefender cloud, which greatly limits the impact on storage space. The performance of the device remains optimal in all circumstances.
Autonomy: the application has a low impact on the battery, an "Autopilot" system analyzes the applications during their installation.
No tedious handling: no configuration is required, installing the application is enough to benefit from maximum security.
The publisher also offers a paid solution for locating the device, analyzing the web pages viewed, locking the smartphone remotely.
Anti-virus Dr.Web Light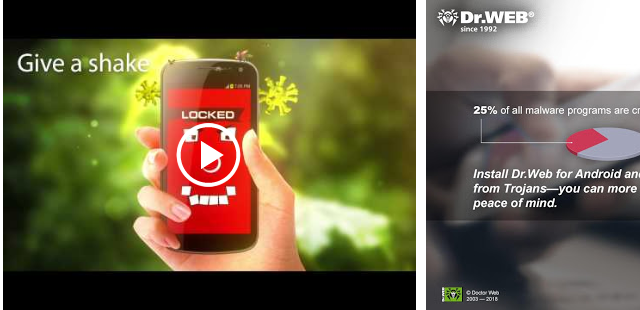 Dr.Web is a fairly well-known Russian application with a community of more than 70 million users on the Google Play (Developer figures). Like his compatriots mentioned above, he is there to protect you from all the possible threats on your mobile devices under Android, but this one differs from the others by certain advantages, but also disadvantages.
First of all, its main advantage is its lightness, in fact, you will need less than 1 MB to store the application, it is the lightest antivirus of Android. Skip the almost invisible installation for your storage space, you will find yourself facing a very simple interface that goes to the essentials with a scan module (Fast, complete and personalized), the SpIDer Guard and statistics.
I will not go back to the scan which works in the same way as all the other applications. The SpIDer Guard is the monitor that monitors your device in real-time to intervene at any time in the event of detection of potential threats and it is formidable. A persistent notification will then appear for faster access.
Dr.Web integrates a large number of features such as a powerful antispam, an accelerated scanning system if you don't want to wait, an internet access control, an anti-theft device (in case of loss or theft) or even a screen. – full fire . But as I told you, beyond its advantages, this antivirus has a big drawback.
Indeed, if you can download the application for free, it is far from complete, you must have seen the word Light in the title. If you want to unlock all the features, you will have to pay € 58.13 for a lifetime license.
Kaspersky Free Antivirus 2020 — Internet Security
We now present Kaspersky, it is one of the pillars of antivirus on PC and necessarily it has become a must on smartphone. Its application is very well thought out, it also allows some welcome features.
We have for example the location of the smartphone, blocking calls and SMS from unwanted numbers, but also protects your Android Wear watch, it is true that we can never be too careful! In any case Kaspersky brings all its expertise on Android and then we must recognize that the application is rather pretty while in Material Design.
McAfee – Mobile Security: Antivirus, Wi-Fi VPN & Anti-Theft
Another big name added to the list is that McAfee is known to many Windows users. The publisher provides an application that improves the performance and security of Android smartphones, as explained by the publisher through the Play Store sheet. McAfee offers an all-in-one solution: antivirus, anti-spyware, anti-malware and device optimization. Here is a list of the features described by the editor:
Security lock and CaptureCam: locks your device and takes a snapshot of the person who holds it
Anti-spyware: prevents thieves from accessing your personal data
Remote data erasure: erases selected data or restores the factory settings using your anti-theft functions
Backup of SMS, contacts and data restoration *
Location, tracking and alarm: find your phone, locate it on a map, trigger an audible alarm or get step-by-step help to recover it
Anti-theft protection against uninstalling: prevent a thief from uninstalling your application
Remotely manage your mobile security antivirus app via the web portal @ https://www.mcafeemobilesecurity.com/ or via SMS from any mobile or tablet
Other features: pair your Android Wear, SOS
Application protection: identify apps that put your personal data at risk
Call blocking and SMS filtering *
Norton Mobile Security and Antivirus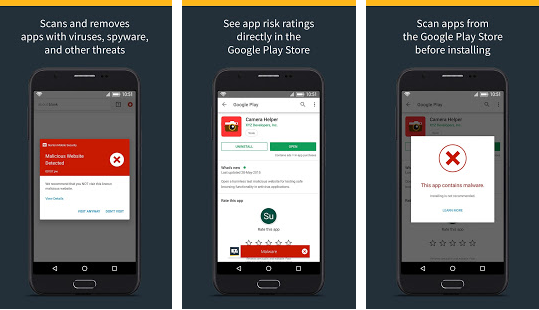 Make way for Symantec's application: Norton Antivirus. Although the free version will not be as effective, the company has done the right thing to encourage consumers to take out a subscription. However, for your use, you can content yourself with the free antivirus that I will detail here.
Like Avira, it will only have its primary function, that of protecting you from viruses. From there, you can scan your system for threats.
With an analysis of just over a minute (without scanning performed on the SD card), the Symantec software will not have detected any threat. If some will come to criticize the Norton antivirus for its numerous bugs on PC, know that this time goes back to versions of 2003 which presented far too many false positives and ended up even in some cases by blocking the search engine Google ( and an anecdote which will well, note ).
However, the latest versions of the application have caught up with the mistakes of the past and Symantec undoubtedly remains a benchmark in the field of security and comes to prove it again with its mobile applications. This will not have been the case with the Kaspersky application which will have disappointed many users.
Obviously, if antivirus protection is not enough for you and you trust the tool, nothing prevents you from upgrading the Norton application to take advantage of options certainly offered for free by the other solutions presented above, but with the know-how of specialists who will be able to provide the tools necessary to make your smartphone or tablet a veritable, almost impassable bulwark for viruses.
In any case, for the version without paying a single penny, it's here, and that's all you need to ensure optimal protection for free.
V3 Mobile Security – AntiMalware/Booster/Apps Lock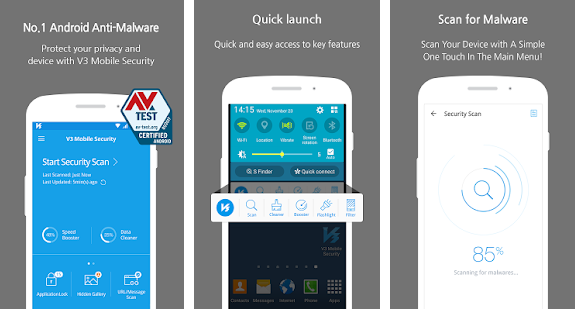 V3 Mobile Security is an antivirus developed by the Korean company AhnLab. It is a complete package comprising all the expected technological building blocks. Virus detection, with different levels of analysis (fast or thorough). Real-time monitoring . Analysis of root files. Inspection of URLs and QR Codes before access. Block unwanted calls. Verification of access granted to applications. Help to delete browsing history . And improvement (software) of mobile performance (understand the optimization of applications in the background).
A digital safe is also present to store sensitive applications and files, such as banking applications or your family photos). A few system parameters have also been added, although this can duplicate the quick settings: silent mode, blue light filter, etc. Please note, some functions are not necessarily accessible with all versions of Android.
Of course, the antivirus engine is updated regularly to incorporate new threats. And the application has received the AV-Test certification, for the most cautious. However, do not be surprised by the Korean origins of this application and by the screenshots available on the Play Store. The interface is available in the Molière language so that everyone can fully enjoy it.
Sophos Intercept X for Mobile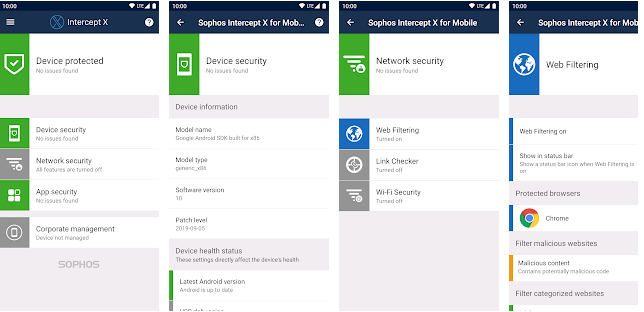 The Sophos Mobile Security antivirus application won the AV-Test award for the best antiviral protection 2015 and 2016. In addition to being free, it does not contain any advertising. In terms of protection, the application proposes to block unwanted websites that could represent a danger for users. Each application is scanned for malicious content.
Web filtering
Blocking websites with malicious, unwanted, or illegal content. Protecting apps
Password protection for apps. Wi-Fi security
Check your connection for man-in-the-middle attacks.
List of apps that access personal data or that may incur costs. Security Advisor
Tips on how to maximize the security of your device. Protection against unwanted calls
Block unwanted phone calls.
Verification of URLs of malicious or inappropriate websites.
Conclusion
We hope that this list has allowed you to learn about the best antivirus solutions available to you on Android, for free, and that you will make good use of these security applications to get rid of viruses. We would nevertheless like to clarify it: we are not necessarily for the use of such applications on a smartphone, but the choice is yours and you will at least have something to satisfy you in this matter.
Do not hesitate to come and comment to give us the name of the antivirus you use (if you use one), the reasons for your choice or simply come and ask questions and debate about mobile security in general.

Sahil Shah is B.E passed out. He loves to write and do experiments with online tools, software, and games. He is an expert tech writer for 10+ years. He is a part-time scientist as well. Eating, and being online at night is what he usually does.