You are having an Android Phone and wants Android PC Suite to import or export your contacts., wants to back up your sms or contacts or some important files or photos in your Phone to your PC or from PC to your phone. Not only this you might also be wanted to download some wallpapers, ringtones, themes or softwares. In some cases scan your Android phone, install or uninstall some softwares, phone process and system recovery management etc. There might be lot of things one may want to have Android PC Suite.
91 PC Suite For Android is one such software you can install on your PC which should be enabled with at-least 300 MHz or faster processor, 100 MB of free hard disk space, 256 MB RAM, Android Driver, .NET Framework 2.0 And broadband internet connection with safe browsers.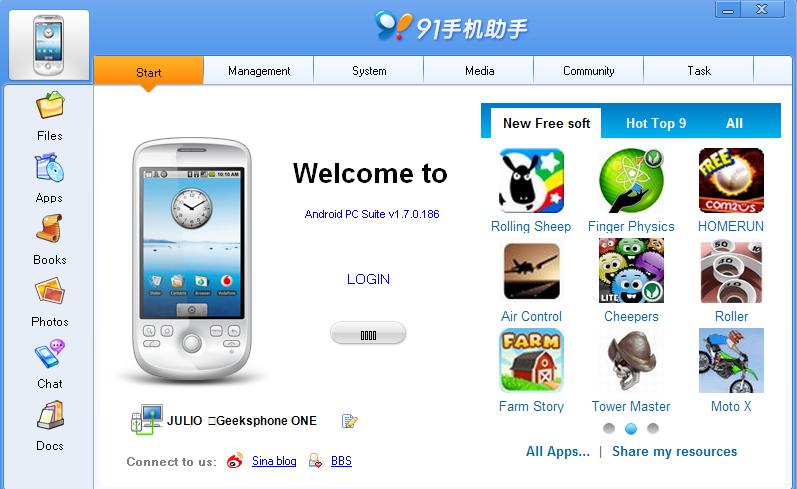 This software supports major Android enabled phones which are there in the market. It works on Windows XP,  Vista, XP X64, Vista64, 7 , 7 x64 OS.
Actually this download is made available developed by Boyuan Dev-Team, a Chinese company that owns pandaapp.com. Android PC Suite is yet to be available in Android market for free download. This suite is also free but comes in Chinese Language. But still you can use it in English by doing small changes.
1) in the program folder (c: Program Files NetDragon 91 Mobile android ) to change the file name "AutoUpgrade.exe" in "AutoUpgrade.ex_". 2)
2) Copy the file in zh-zh-US.lang CN.lang and TW.lang and replace these files.
Or read it how to do it here.
I hope this will help you in getting Android PC Suite and also doing your bit while using it.
Download Android PC Suite – 91 PC Suite For Android

Sahil Shah is B.E passed out. He loves to write and do experiments with online tools, software, and games. He is an expert tech writer for 10+ years. He is a part-time scientist as well. Eating, and being online at night is what he usually does.